Monster crafts are fun and weird, and there is no one way to make them. Your child's monster can have five eyes or ten arms. These crafts are a great way to help your child develop creativity. Also, you don't have to worry if you're not a creative parent because the monsters are already ugly. So put on your creative thinking hats and try some easy monster craft ideas at home.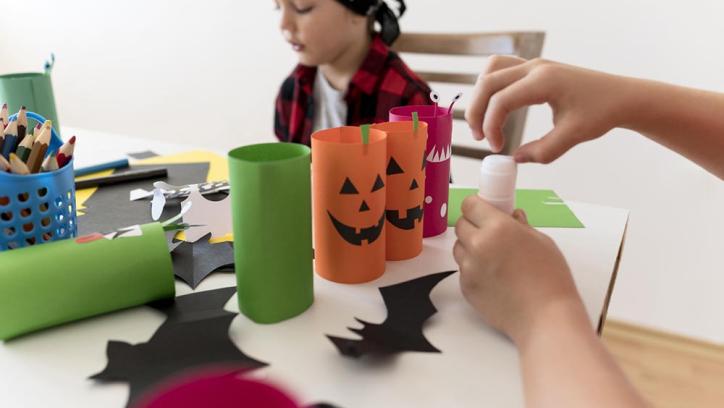 Children's Crafts with Colorful Monsters
With more and more schools and games using technology, it can be hard to keep your child away from gadgets that are bad for their mind and body. Also, your child needs to be smart and creative in this age of competition. This means your child needs to start making things when they are young. 
Creativity from a young age will help them figure out who they are and give them a way to say what they think. They learn how to solve problems better, and it turns out to be a way to relieve stress as well. Monster crafts are very popular because they are easy to make. We've put together the Best ideas for monster crafts for preschoolers that you will love. 
Monster Rocks
Since the beginning of time, people have been making art on rocks. Most of what we know about our history was carved on rocks and was called rock. It's becoming popular again now. This is because flat rocks are easy to find all around you. 
Also, your child will love seeing how a simple flat rock turns into a beautiful, cute monster. You can also put these rocks in your living room to make it look nicer. Let's take a look at everything you need to make this monster.
Materials Required
The list of things you need is pretty short, and you probably already have most of them in your craft closet. So, here are the items:
●    Flat rocks
●    Acrylic paint
●    Paintbrush Black marker
●    Googly eyes
●    Hot glue gun
Instructions
Let's now talk about how to create a monster craft out of flat rocks:
●    Tell your kid to paint each rock a different color.
●    Allow it to dry.
●    Once the paint is dry, draw a mouth and teeth on the face.
●    Put glue on the eyes.
●    Your monster is all set up.
Used Tin Can Monster
Every day, people throw away tin cans. The child would then understand and get used to making the best use of things that would otherwise be thrown away. This will help them come up with more ideas. Also, this project uses a lot of different things, such as tissue paper, fabric, yarn, etc. So, let's look into how to do it.
Materials Required
●    Felt or fabric sheets are easy to find on any e-commerce site.
●    Tin cans
●    Hot glue
●    Googly eyes
●    Scissors
Instructions
Here's how to make your adorable tin-can monsters:
●    Use the gun to put glue on the tin cans.
●    Now put felt over the cans and glue on as many googly eyes as you want.
●    From the felt sheets, cut out teeth, mouths, horns, hair, etc.
●    Cover the can with the cutouts of the features.
●    And you're finished!
Monster Shapes
This project will give your child a chance to be creative and will also teach him or her about shapes, colors, as well as counting. If you think your child is old enough to understand all of this, he or she can make this on his or her own and surprise you with how creative they can be.
Materials Required
●    Craft paper
●    Glue
●    Scissors
Instructions
Let's look at the steps for making this fun and educational monster craft. The steps to take in order are:
●    For this project, we are making six different shapes.
●    These are simple shapes that are easy to draw and cut out. Oval, square, circle, heart, pentagon, and square are the shapes. If you like, you can include a rectangle and a hexagon.
●    Cut shapes out of different-colored craft sheets.
●    Now, cut the monster's eyes, teeth, mouth, arms, and other parts into the right shape.
●    In our project, we used half-circles for the mouth, small triangles for the teeth, and large triangles for the nose. A large circle is cut out for the eye's outer circle, and a small circle is cut out for the pupil. For arms and legs, you need to cut out rectangular strips.
●    Now, you can glue each part to any shape monster you want.
●    Link the monsters' arms together to make a chain.
●    This will enable you to show off your child's work and be proud of it.
Handprint Monster Crafts
Every parent will agree that sometimes your child acts like a monster. But you care way too much about your monsters. So, you will also love this monster craft idea you can make yourself. Your children will love them because they are made from their hands. You can also give these handprint cards as gifts at different times. I'm already getting excited, so tell us more about them as soon as possible.
Materials Required
These are the things that are needed for this project:
●    Colorful cardstocks: These are easy to find online, and we'll be making 4 handprints here.
●    Googly eyes: a bunch and in different sizes.
●    Black indicator
●    Glue 
●    Pom poms
Instructions
Follow these steps sequentially and have fun:
●    Fold the sheet of cardstock in half.
●    Trace the shape of your child's hand over the folded paper.
●    Cut the handprint out of the paper.
●    Once the handprints are done, you can start sticking different pom-poms and google eyes on them.
●    Blue Monster: In the middle, we added a big google eye.
●    Pink Monster: In the middle, we added a large and a medium-sized eye.
●    We've added 3 small eyes in a row in the middle of the yellow monster.
●    The Green Monster has a medium-sized head with two small eyes on each side.
●    Now, decorate your monster however you like by adding a mouth, teeth, and pom-poms.
●    Please fill out the card and give it to your friends and family!
Monster Paper Plate Ring
Here, we'll use paper plates to make the faces of cute monsters. This project helps the child's creativity and developmental skills grow. The child can cut, paint, and stick with it. Also, you don't need a lot of stuff to do the same thing. Most things are easy to find around your house. So let's go forward and look at how to make a monster with a wide-open mouth.
Materials Required
●    Paper plates
●    Colored card stocks: easily available online
●    Paint
●    Paintbrush
●    Glue
●    Scissors
●    Googly eyes
Instructions
Now, let's write down the steps for making these creatures:
●    Cut out the middle of a paper plate.
●    Cut out the monster's horns and teeth.
●    Now, paint your favorite color on the plate you didn't use.
●    Stick the horns on the painted paper plate's edge at the top.
●    Put the teeth on the edge of the paper plate on the inside.
●    Next, put as many different-sized eyes as you want below the horn.
●    Your scary but cute monster with a wide mouth is ready.